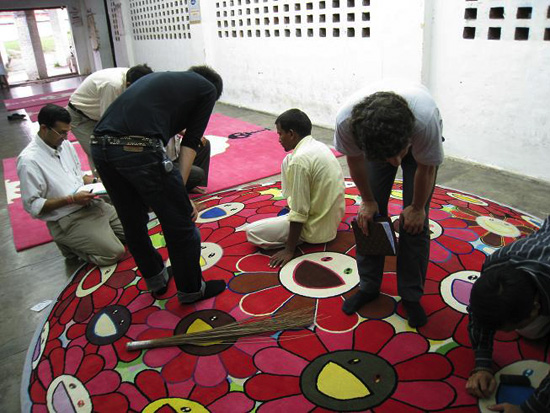 Unveiling Takashi Murakami's Rug Collection with Louis Vuitton
Takashi Murakami, a name that resonates with a unique blend of contemporary art and traditional Japanese culture, embarked on a journey of rug design with the luxury brand Louis Vuitton. This collaboration unfolded a new chapter in Murakami's expansive portfolio, seamlessly weaving his artistic essence with the elegance of Louis Vuitton.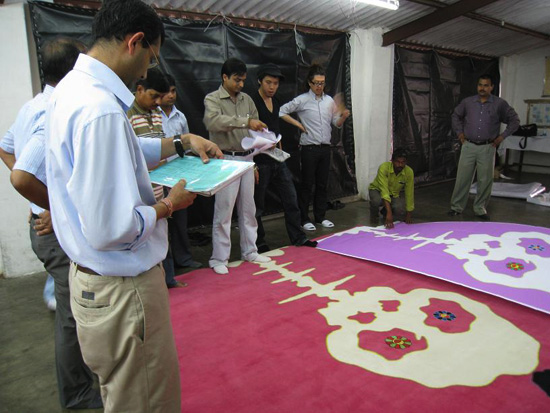 The Aesthetic Transition
The venture was showcased with two hand-embroidered tapestries titled 'Flowerball' and 'Pink Time', exhibited at the Louis Vuitton Champs-Élysées Maison in Paris in January 2010【17†(Designboom)】. This collaboration was available for viewing in early 2010, marking a notable event in the fashion and art scene【21†(Nazmiyal Antique Rugs)】.
Crafting the Masterpieces
These rugs were meticulously crafted at a distinguished Indian rug factory, echoing a tradition of fine craftsmanship. The process involved actual sized printouts of rug data transported to India, ensuring precision in design alignment. The rugs were woven from the finest quality New Zealand wool employing the lock stitching method, epitomizing skilled craftsmanship【17†(Designboom)】.
Beyond the Rugs: A Historical Collaboration
Before delving into rug design, Murakami and Louis Vuitton's collaboration journey commenced in Spring/Summer 2003 when Marc Jacobs beckoned Murakami to redesign the season's accessories collection【23†(The Vintage Bar)】. This partnership blossomed over the years, transcending from accessory design to a grand exhibition of rugs.
The Legacy of Takashi Murakami and Louis Vuitton
The collaboration between Murakami and Louis Vuitton symbolizes more than just a fusion of art and fashion. It reflects a monumental marriage of art and commerce, carving a niche of timeless creations that continue to inspire the realms of fashion, art, and design【24†(Sotheby's)】.
Conclusion
Takashi Murakami's rug collaboration with Louis Vuitton reflects a narrative where artistry meets functionality. It's a tale of how fine art can transcend its traditional boundaries to meld with everyday elegance, narrating a story of innovation and timeless design.